LOAD MONITORS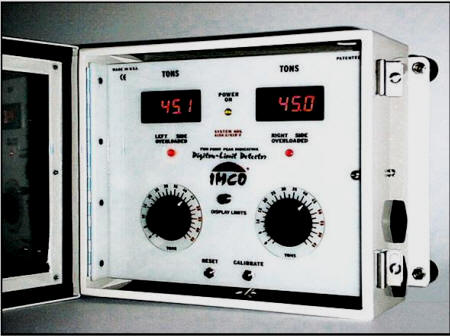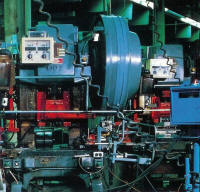 The IMCO Ton-Limit Detector and Hi-Low Limit Detector are sophisticated, state of the art, precision instruments built with a modular format featuring large, bright digital displays. They combine visual measurement of load at all times plus feature the unique Control Monitoring Knobs which lets the user pre-select, by a single dial, load trip points. An IMCO system for your press is determined by the type of press not the tonnage of the press.
Very simple in operation, the digital displays continually indicate load in direct tons always reading the actual tonnage at each working stroke. If any piezoelectric transducer signal exceeds the pre-set value it will activate the circuitry in milliseconds for press drive disengagement. An alarm or flashing light can also be used.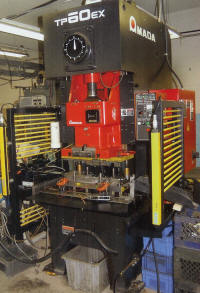 IMCO'S innovative and unique Digital Systems can provide limits in both percent and direct tons. The Control Knobs are used to set the limits. By pressing a center button "Display Tons", it displays each tonnage increment on the Digital Displays allowing the limits to be set with more precision.
It is also possible to not only monitor for overload of the machines maximum capacity, but also the optimum tooling capacity which may be a great deal less than that of the machine.
Following the correction of an overload or under load of an IMCO system, a reset button is located behind the clear lexan box cover to cancel out the readings and reactivate the system.
Quality built for permanent shock mounting and designed for heavy duty use in an industrial environment, each system requires either 120/220 volts A.C., 50-60Hz. Contains solid state circuitry, fungus proofed and enclosed in heavy gages steel boxes with sizes ranging from 12"(305mm)x10"(255mm)x5"(130mm) to 4"(355mm) x12"(305mm)x 6"(155mm), each conforming to JIC standards. Operator has full visual access to all control functions through a clear-view lexan panel in the hinged door, that is key locked for supervisory control.
Each system is supplied complete with piezoelectric transducers, mounting brackets, flexible two conductor shielded Belfoil cable for column mounting or flexible two conductor shielded Teflon cable for pitman mounting, which is impenetrable to oil and grease, shock mounts and an Installation Manual.
Assurance for a better end product, worry free operations of presses through fewer breakdowns, fewer scrap parts, longer die life and safely loaded machines - an IMCO system can save a machine today for a more productive tomorrow.
DIGITON TON LIMIT DETECTORS
IMCO'S linear Ton-Limit Detectors show the operator or production personnel visually what load changes are occurring in the dies or press. When a load is applied to the press structure, such as the columns or pitman's of a press, the structure becomes either longer as in tension or shorter in compression. Mounting IMCO'S piezoelectric transducers to the column or the pitman's (customer preference) of the press, will detect structural deflection. Then by transmitting this low-noise signal from each piezoelectric transducer to an IMCO Ton-Limit Detector, it is possible to monitor each signal very accurately at each working stroke.
IMCO'S Digital Ton-Limit Detectors offer the user a more precise accuracy of readout in direct tons. These Digital systems displays contains an exclusive Digi-Latch feature. When a signal for overload is given the display will indefinitely "lock in" the display amount indicating the peak load applied at time of overload. Reactivation of the system can only occur if the system is reset.
IMCO'S Ton-Limit Detectors also include one or more Monitor Control Knobs, depending on the type of press. These knobs enable the user to pre-select maximum load to be applied to his dies, regardless of machine capacity. If the selected load trip points are exceeded the system will automatically signal for drive disengagement, and greatly reduce the possibility of a damaging overload to both dies and press. Monitor Control Knobs read out in Direct Tons or Percent Rated Capacity depending on the type of system ordered.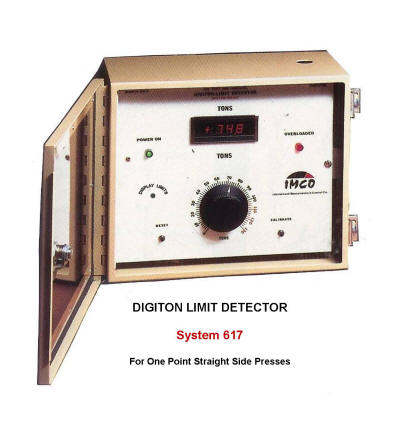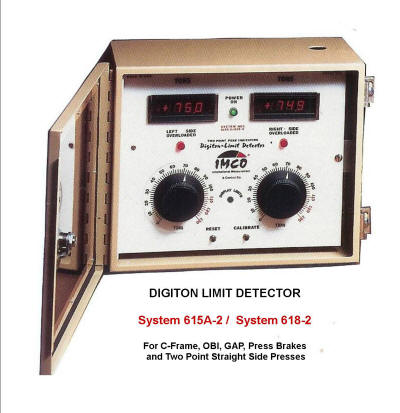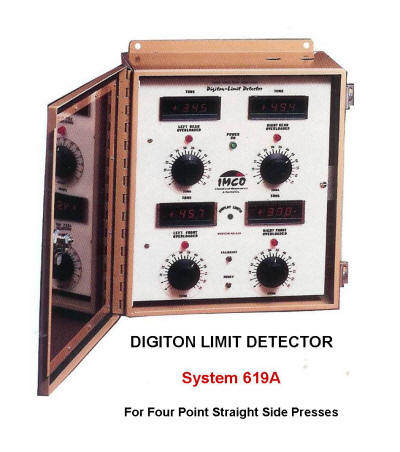 HI-LOW DIGITON AND HI-LOW LIMIT DETECTORS
IMCO'S Hi-Low Limit Detector has the same featured working capabilities as the Ton-Limit Detector but has the advantage of monitoring for under loads as well as overloads. Ideally suited for automatic press line operations and where similar production requirements generate the importance of maintaining suitable under and overloads on dies.
The user first observes the load being applied to press dies, while at the same time relates the load to the analog or digital displays. Then individually selects the high and low trip points on the designated Monitor Control Knobs. If then, the actual load varies more than the Monitor Control Knobs are set for, either by under load or overload, the system will automatically signal for drive disengagement. A cam or proximity switch is required for Hi-Low Limit Detectors to facilitate timing function of the low limit.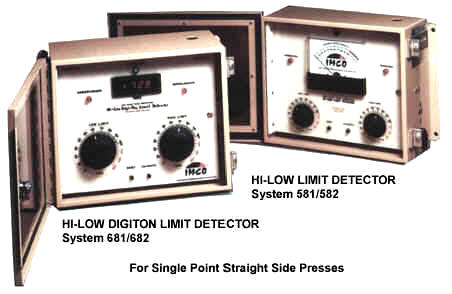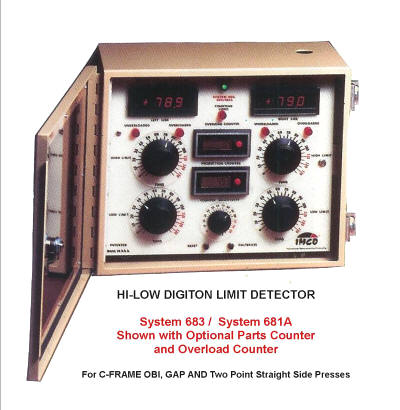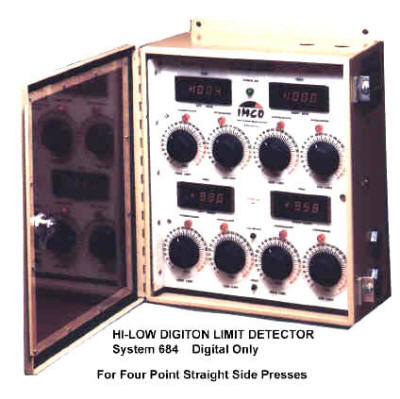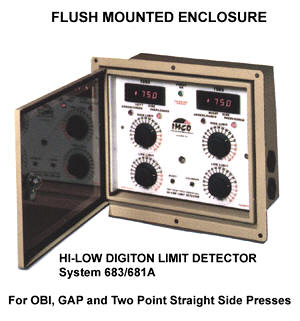 FLUSH MOUNT ENCLOSURES AND 19" RACK MOUNTS ARE AVAILABLE FOR ALL SYSTEMS

Reversa Load - Push button located on Control Box When added to your IMCO system it can help avoid severe damage to expensive dies and machines by quickly supplying valuable data previously unavailable by any other practical method. When pressed during cycle of machine, it will cancel out the measurement normally read upon impact, instead it reads only load made on reverse IE: coining, stripping or snap through load. One of the most overlooked causes of broken crankshafts, badly worn bearings and similar type damage are the excessive forces exerted on machine members or parts, when they undergo greater stress in an opposite direction, to that encountered when initially stressed. Although the amount of reverse load capability of press frame and members varies with individual press builders, none can adequately compensate in the press structure design for abnormal reverse loads, which could cause damage to valuable machine members if the reverse load force is not observed and limited. Determining the reverse load exerted on the machine members, first observe the value of readout as the first work stroke is made. Then press and hold the Reverse Load Button when making the second stroke, at which time the forces, for example, as generated on the machine members, by release of compressive force will be observed as a load readout on the control displays. The difference between the two readings is the "Reverse Load". Option


Flush Mounted Enclosure - This oil tight JIC enclosure is used for mounting in a console for a cleaner press mounting appearance. Option. (shown above)


19" Rack Mount - Suitable for mounting in a 19" Rack console positioned near the press


Digital Systems can provide Limits in both tons and percent - Press a center button "display limits" and it shows the limits on the Digital Displays in tons. It displays each tonnage increment on the Digital Displays as you turn the Control Knob which is in percent.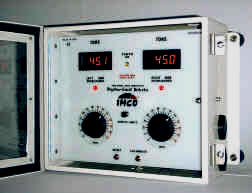 All digital systems will latch and hold display readings at time of overload or underload. It will hold indefinitely until reset. Standard.


Cam/ Proximity Switch Assembly - A Cam or Proximity Switch is needed to activate the Low limit function of Hi-Low Limit systems. Option.


Scope and strip chart recorder output connection - Records data and visually observes wave form patterns made by press or dies. This two point connection
will interface with your equipment and transmit the information. Option.


Two Conductor Cable - Can be cut and spliced without ever having to rebalance system. Few wires to worry about. Standard.


Shock Mounted - System and transducers are built to withstand excessive shock or vibrations. All system come equipped with four shock mounts. Standard.


Ultra High Speed Presses - IMCO systems will accurately track speeds up to 2500 strokes per minute. Transducers are specially designed for high noise
immunity giving clear load signals. Standard.


Total Tonnage - Digital summing of the total press tonnage. Option.


Hydraulic Loop Control - IMCO systems respond fast and accurately while working in conjunction with hydraulic overloads by automatically raising the ram when
preset limit is reached. Option.


Simultaneous Reading - Left and right side analog or digital displays, which can assist in offset loading by showing dies in relation to actual distribution and
disbursement of press load - No Switch To Flip. Standard.


Positive Parts Counter - Six digit liquid crystal display counts only parts made not empty press strokes. Using the die and the piece part as a workload reference,
the columns or the pitman's to which the transducers are attached becomes stressed and produces a signal to activate the parts counter. Omission of the piece part
decreases stress load below pre-set limit and counter will not count. a valuable aid for Production Control by giving a total parts actually made.
Option. (shown below)
Parts Counter - Overload Counter


Overload Counter - The six digit liquid crystal display will continue counting overloads despite the resetting of the press. It keeps control over the number of times
a machine is overloaded, and can help in recording the times when and where a shut down has occurred. The numbers can be held for 2 or 3 years and can only be
reset by a separate push button or a remote reset can be wired in. Option. (shown above)